Need a lift?
Welcome to 21st Century Living.
We can help you keep things light and fresh. Molecule Design offers an extensive selection of innovative contemporary art and industrial design furnishings from well known national & international designers and creators that are pushing the limits of the traditional.
Vondom
VONDOM is a leading company of avant-garde outdoor furniture, planters, lamps, and rugs for modern indoor & outdoor residential and commercial spaces. VONDOM has worked with renowned international designers and architects like Fabio Novembre, Stefano Giovannoni, Eugeni Quitllet, Ora Ïto, Ross Lovegrove, Karim Rashid, Javier Mariscal, and others. Ramón Esteve is the co-owner and artistic director. Vondom's factory is in Valencia, Spain.
Multi Award winner, Vondom is now recognized internationally and sought after as an innovative, fresh and authentically strong contemporary industrial design and manufacturer company. Vondom merges beautifully strong contemporary design and the glamorous.
Vondom generally warehouses a small inventory in the US which is Quick-Shipped. They also custom-fabricate most everything in their collections. Lead time for custom fabrication at this time is 6-8 weeks. Email us with your interest and we'll check inventory availability.
Why?
Because it's chemical, the way good ideas make you feel.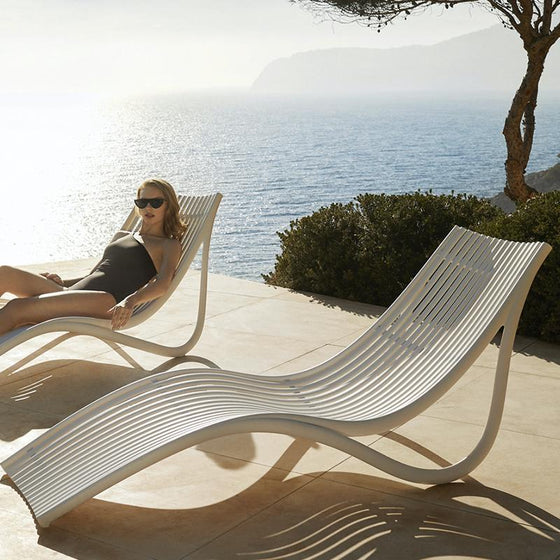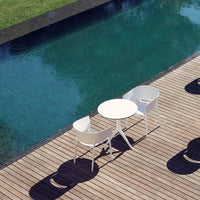 Extraordinary Vondom
Outdoor Excellence
Check out the Revolution collection by Vondom. All products are made from recycled plastics from the sea.
Vondom Revolution
Other ideas for your projects
Classic Loll Designs
No. 9 Sofa
All seasons, the No. 9 Collection of modern outdoor furniture stays out all night and is up early to greet you for morning coffee or afternoon lollygagging.
Made from recycled first use milk jugs!
Take a peek
Testimonials
So good to see Molecule is "business as usual" at the online site.  Especially pleased that you continue to feature Digital Art among all your other amazing offerings.  The current galleries from Santa Fe artistic partners Ellen and Michael Jantzen are both stimulating and challenging.  Viewing the work of either of these talented creatives is a pleasure.  Both together is beyond the beyond.  


Thanks!

Bob Sunde. Rio Rancho, NM 2023
Among the things I have hated about Covid was the closing of the Molecule store. As a modernist, I always enjoyed the respite you offered from Santa Fe style. And if you recall, Rita Bard and I were prepping an art installation in the space when the plague hit. Life goes on (or so I'm told), but I really miss the store.

RJ Ward, Santa Fe, NM 2022
You have provided great Design and Great Beauty to our community!

I am so sorry to hear you are no longer inhabiting your great building, and shall look forward to shopping on-line with you!

I shall be fascinated to hear what is happening with your building next…

With gratitude,

Suby

Suby Bowden, Santa Fe, NM 2022
An amazing store to buy furniture. The designs are just incredible. There are many pieces to choose from. You won't be disappointed. I bought a chair and table which I love. Thank you, Adriana and good luck in your new journey! We will miss you. Y también la tienda. Muchas gracias por todo!

Alex Angel, Santa Fe, NM, 2020
You've been such a force in this community.

-- Thomas Lehn, Santa Fe, NM, 2022

What a fantastic design venue, I was blown away by Moooi and Moroso. The building is so innovative and everyone was quite informative.

Michael C. Collins, Santa Fe, NM
A jewel in Santa Fe's crown. Impeccable examples of modern design from Europe, Asia, and the Americas. Personalized sales and service, from a single knickknack to a house full of furniture. Adriana Siso is a creative artist herself and internationally travelled. She knows her stuff and is more than happy to share. We love the Italian patio furniture set she found for us. Give Molecule an A+

Robert Sunde, Albuquerque, NM 2019
When I saw Arjun's chair design, I immediately thought, 'this  belongs in Molecule!' Whenever I'm at the shop I feel like I'm at MoMA in New York. And so the Pop-Up idea was born.

Sarah Boisvert, Fab Lab Hub, Santa Fe, NM, 2018
I thank you for being so nice to us when we came to visit Molecule several days ago. I had the Pasatiempo article about the SFCC student and faculty pieces that are interspersed with your exciting design pieces. A great joining together of fun and fine works. You were very nice to us.

Sandra Waldo and Ken Dewey, Santa Fe, NM 2018
Your store is so cool and wonderful and with new energy it's like you have injected fresh mint into the premises.

-- Visitor, 2018

What a wonderful eclectic store full of retro chic furniture and art. We purchased an Icarus lamp.

Stephen Smith, Santa Fe, NM 2017
Inspiration
Beautiful
The PEDRERA chair was inspired by the curvy and sensual shapes of La Pedrera... a unique building built in the city of Barcelona, Spain, between 1906 and 1912 by the architect Antoni Gaudí.
"It wants to play with the waves and become part of an ongoing movement", designed by Eugeni.
Vondom's factory is located in Valencia, Spain.
View details
Accent chairs
A great collection of accents chairs with tons of personality. Add some originality to your space. You'll love living with functional art.
Take a peek
Projects
Your projects will break away from the mold when you include some outstanding pieces from our exciting collection of commercial and residential contemporary furniture and lighting. Imagination meets innovation.
Find out more
Share us
Partner with us
Get up to 8% in commissions on successful online referrals. Profit from our experience.
Find out more